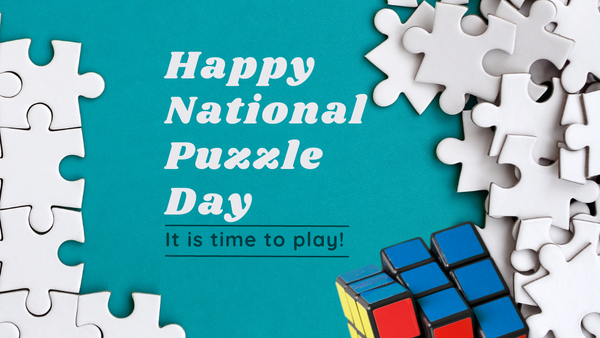 Unleashing the Power of Puzzles: Celebrating National Puzzle Day
At Intrism, we are thrilled to celebrate National Puzzle Day, a day dedicated to the joy and challenge of puzzle solving. We believe that puzzles are more than just a pastime - they are a way to exercise our brains, bond with loved ones, and relax after a long day. On this special day, we want to remind everyone of the endless benefits of puzzle solving and encourage everyone to pick up a puzzle and give it a try. Whether you're a seasoned pro or a first-time puzzler, there is a puzzle for everyone. So, let's all come together and celebrate the power of puzzles on National Puzzle Day!
When is National Puzzle Day?
National Puzzle Day is an annual celebration that takes place on January 29th. In the following years, find out which day of the week this special day will fall on.


| Year | Date | Day of the Week |
| --- | --- | --- |
| 2023 | January 29 | Sunday |
| 2024 | January 29 | Monday |
| 2025 | January 29 | Wednesday  |
| 2026 | January 29 | Thursday |
| 2027 | January 29 | Friday |
| 2028 | January 29 | Saturday |
What is National Puzzle Day?
It is a day to celebrate and recognize the joy and benefits of puzzles. It is an opportunity to encourage people to enjoy puzzles and recognize the benefits of these activities for the mind and body. The day is celebrated by people of all ages and skill levels, from children to adults, with puzzle-related activities, such as jigsaw puzzles, crosswords, 3D puzzles, and other brain-teasers.

How Did National Puzzle Day Start?
In 2002, Jodi Jill created the holiday of National Puzzle Day to celebrate her love of puzzles. Today, many people participate in events and activities related to this special day.

What are the Benefits of Puzzles?
Puzzles have been around for centuries, with the earliest known examples dating back to ancient Greece and Rome. Today, puzzles come in all shapes and sizes, from traditional jigsaw puzzles to crosswords and, more recently, 3D wooden puzzles.
Puzzles are a great way to exercise your brain. They can help to improve memory, concentration, and problem-solving skills. They also help to increase cognitive flexibility, which is the ability to switch between different concepts and tasks quickly and efficiently. By working on puzzles, you will improve your overall cognitive function and be better equipped to tackle life's challenges.
Puzzles are also a great way to relax and unwind. They are a form of meditative activity that allows you to focus on the present moment and forget your worries. As you work on a puzzle, you will find that your mind becomes calmer and more centered, helping to reduce stress and anxiety.
Another benefit of puzzles is that people of all ages and skill levels can enjoy them. Whether you are a child or an adult, there is a puzzle out there that is perfect for you. Not only that, but puzzles can be a great way to bring people together. Families and friends can bond over a puzzle, working together to complete it.
How to Celebrate National Puzzle Day?
The Intrism team plans to celebrate National Puzzle Day by enjoying some of their favorite puzzles. Our team will be celebrating by enjoying some of our favorite  puzzles ranging from Rubik's Cube, classic jigsaw puzzles, Soduku, puzzle boxes, and tangrams! Here are some ways you can celebrate puzzle day:
Gather friends and family for a puzzle-solving party. Set up tables with jigsaw puzzles of different difficulty levels, and have a friendly competition to see who can complete their puzzle first.

Solve a crossword puzzle or Sudoku in the morning to get your brain going.

Visit a puzzle store or website to buy a new puzzle to work on.

Share puzzle-solving tips and strategies with others on social media using the hashtag #NationalPuzzleDay.



January 29th marks National Puzzle Day - a puzzle day that reminds us of the many benefits of puzzles and how they can positively impact our lives. So, take some time today to enjoy a puzzle and experience the benefits yourself. Whether it's a classic jigsaw, crossword, Sudoku, or any other type of puzzle, give it a try and discover the joy of problem-solving.
From the team at Intrism, happy puzzling!