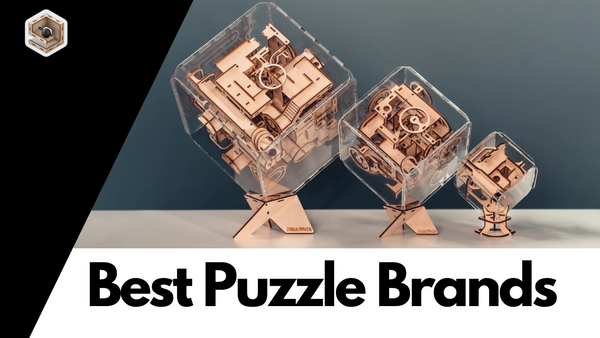 5 of the Best Puzzle Brands That Will Keep You Entertained for Hours
If you are a fan of puzzles, you know how much joy and satisfaction they can bring. There is something about the act of piecing together a puzzle that can be therapeutic and calming, making it the perfect activity to do alone or with others. Plus, there is no age limit when it comes to puzzling, making it a hobby that can be enjoyed by everyone from toddlers to older adults.
As someone who has been puzzling for years, I have had the opportunity to try out many different popular puzzle brands. In this article, I will be sharing with you my top puzzle brand recommendations that I have personally used and loved. Whether you are a seasoned puzzler or just starting out, there is something for everyone on this list.
Intrism
Intrism, a rising star in the puzzle manufacturing industry, produces 3D wooden puzzles in Columbus, Ohio that transform into intricate marble mazes once assembled. The newest offering, Level One, is a distinctive and captivating puzzle that offers an engaging and immersive experience from assembly to playability.


What sets this puzzle apart is that it offers three assembly options, making it a versatile choice for all levels of puzzlers. For those seeking a greater challenge, they can opt to assemble the puzzle without instructions, while beginners can follow the detailed printed assembly guide or the step-by-step video walkthrough to complete the puzzle. 

The Intrism Level One puzzle kit includes all the essential components to construct the maze, from pre-cut wooden pieces, a marble, sticker, acrylic case, and a set of instructions. Once assembled, the marble maze provides a unique and dynamic puzzle that requires both critical thinking and problem-solving skills. It's an excellent way to develop hand-eye coordination, spatial reasoning, and patience while enjoying a fun and rewarding activity.
Additionally, the Level One puzzle makes for a great display piece, with its sleek and modern acrylic case adding a touch of elegance to any space. It's a fantastic addition to any puzzle collection, and its versatility and adaptability make it a puzzle that can be enjoyed time and time again.


Ravensburger
Ravensburger is a well-known and respected puzzle brand that offers a wide variety of designs and difficulty levels. Their puzzles range from classic landscapes and cityscapes to more unique designs like animal portraits and fantasy scenes. 


One of the standout features of Ravensburger puzzles is their use of Softclick technology, which ensures that each piece fits together perfectly and smoothly. This makes for a satisfying puzzle experience and reduces frustration when trying to fit pieces together. Ravensburger also uses thick, durable cardboard for their puzzles, ensuring that they can be enjoyed for years to come. With a wide range of designs and difficulty levels, Ravensburger puzzles are a great choice for both beginners and experienced puzzlers alike.
Cloudberries
Cloudberries Puzzles is a brand that stands out in the world of jigsaw puzzles. Their designs are not only beautiful and intricate, but they also offer a unique challenge for puzzle enthusiasts. From whimsical illustrations of animals and nature to fantastical scenes of mythical creatures, their puzzles are sure to captivate and entertain. What sets Cloudberries apart from other jigsaw puzzle manufactuerers is their commitment to sustainability. All of their puzzles are made from recycled materials, and they plant a tree for every puzzle sold!

Clementoni
Clementoni is an Italian puzzle brand that has been producing high-quality puzzles for over 50 years. Their puzzles are known for their beautiful designs and excellent quality. Clementoni offers a wide range of puzzle types and sizes, from simple children's puzzles to complex 2000-piece puzzles for adults. Their puzzles are made from high-quality materials and feature precision cutting to ensure a perfect fit. Clementoni also uses a special printing technique that creates bright, vibrant colors that will not fade over time. The average price for a Clementoni puzzle ranges from $10 to $40, depending on the size and complexity.

Melissa & Doug
Melissa & Doug is a popular brand that produces a wide range of children's toys and educational products. One of their most popular categories is puzzles, which are designed to challenge and engage children while promoting cognitive development and problem-solving skills. Melissa & Doug puzzles come in a variety of themes, sizes, and difficulty levels, making them suitable for children of all ages and skill levels. Many parents and educators appreciate the high-quality materials and craftsmanship that go into each puzzle, as well as the brand's commitment to safety and sustainability.


There are many puzzle brands available in the market, each with its own unique offerings and features. However, some brands stand out for their quality, innovation, and commitment to providing a fun and engaging puzzle experience for all ages. From traditional jigsaw puzzles to modern 3D designs, the best puzzle brands offer a range of options to suit different preferences and skill levels. Whether you're a puzzle enthusiast or looking for an educational toy for your child, choosing a reputable puzzle brand can make all the difference. Ultimately, the best puzzle brands are those that inspire creativity, promote cognitive development, and provide hours of entertainment for individuals and families alike.