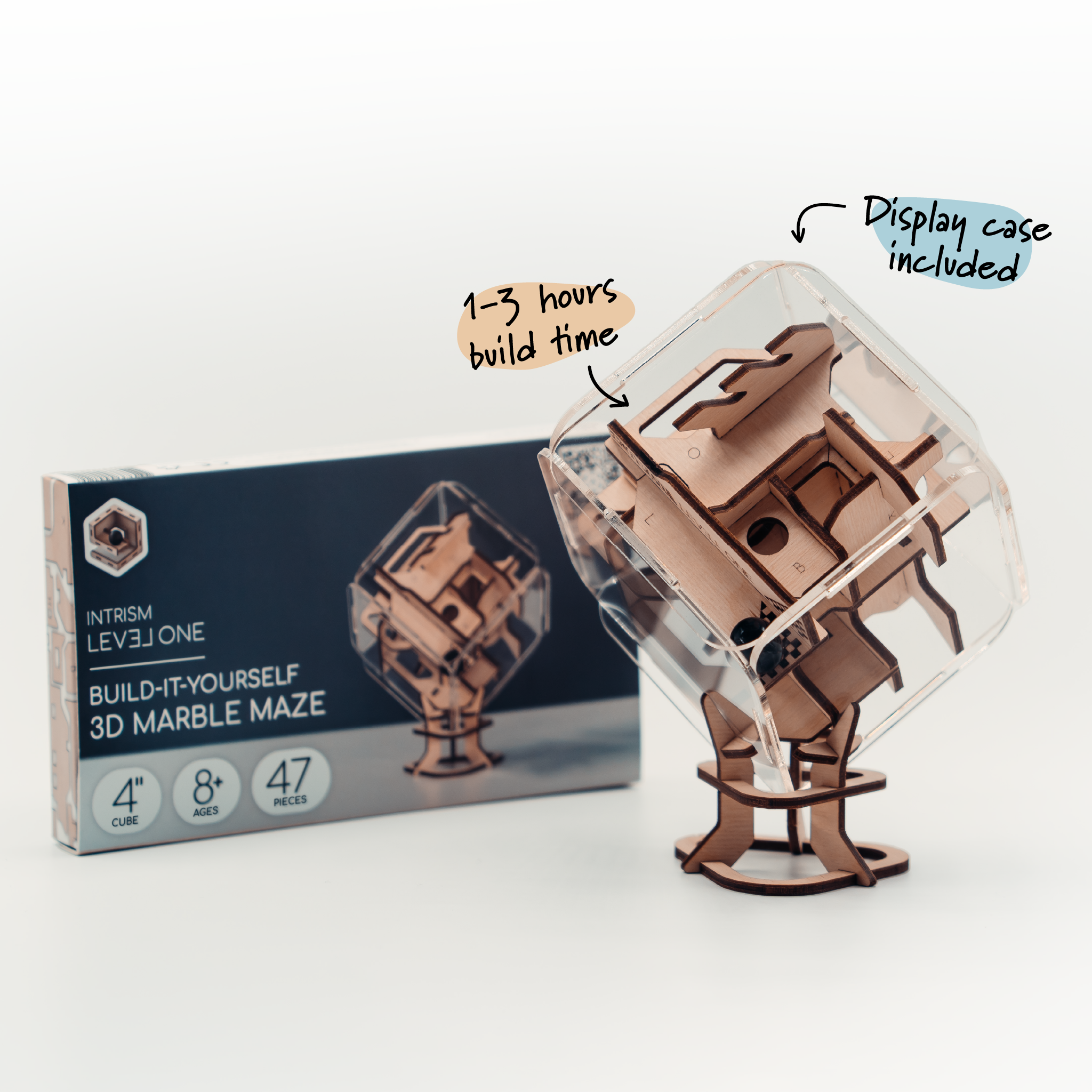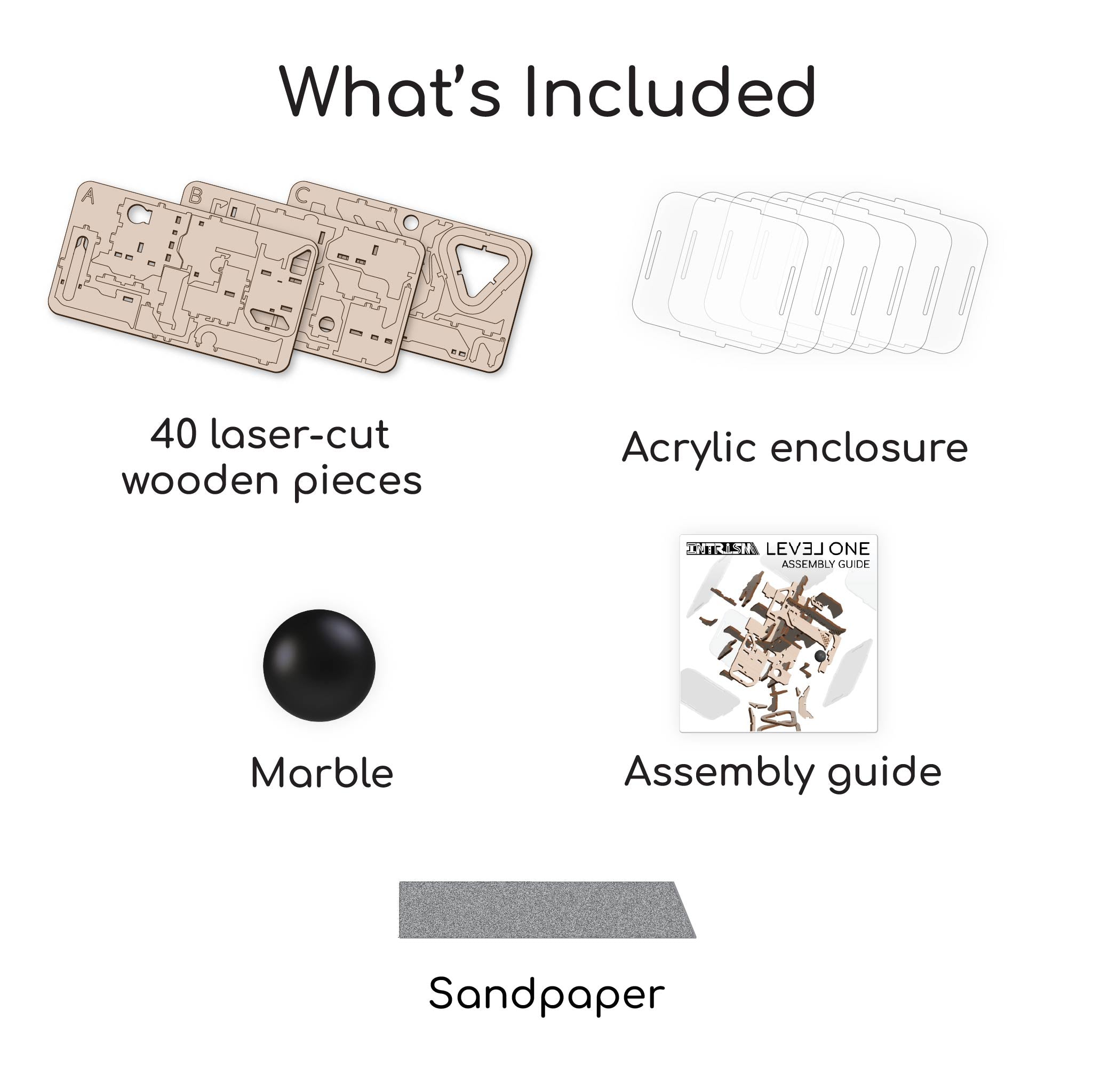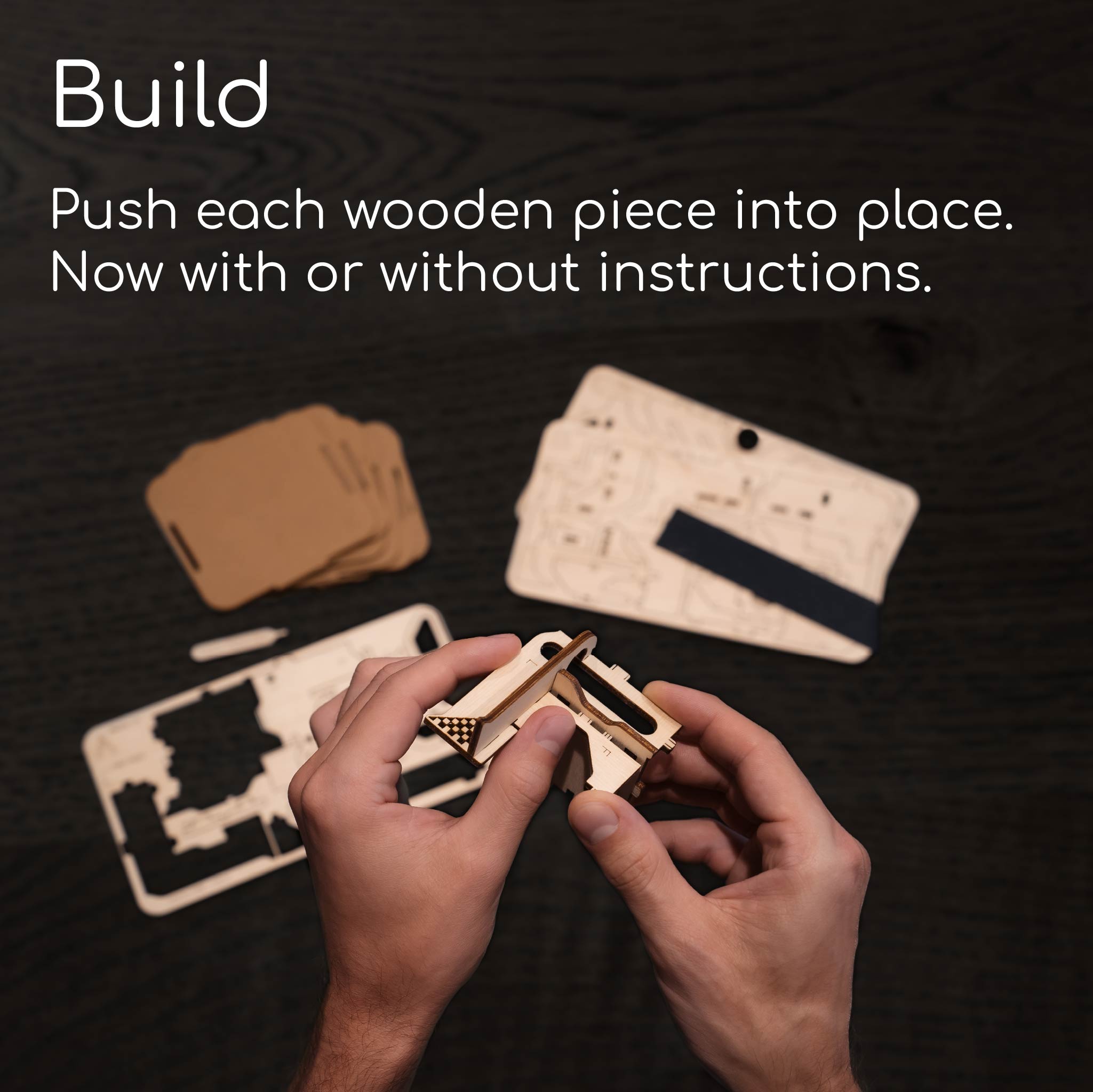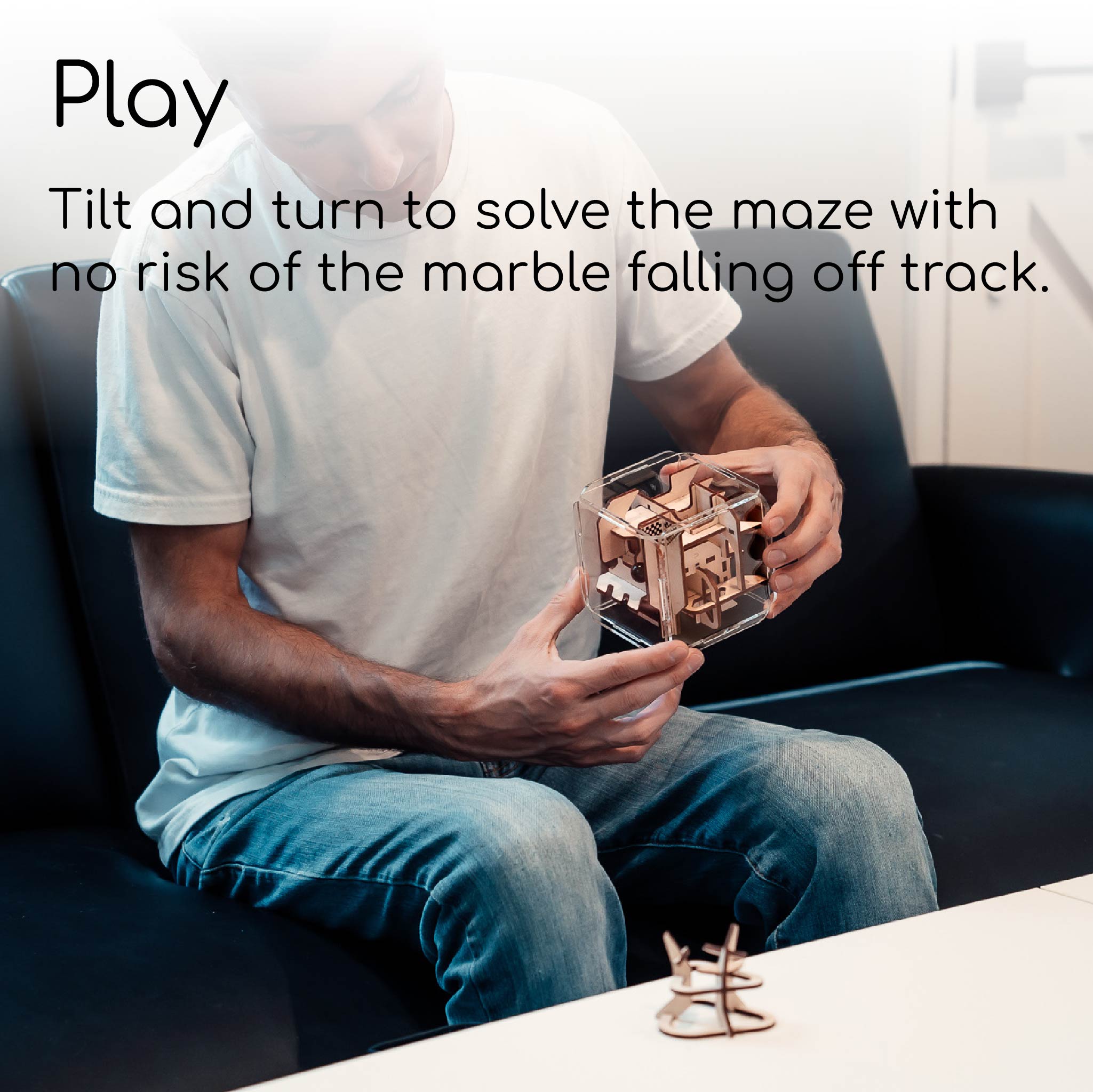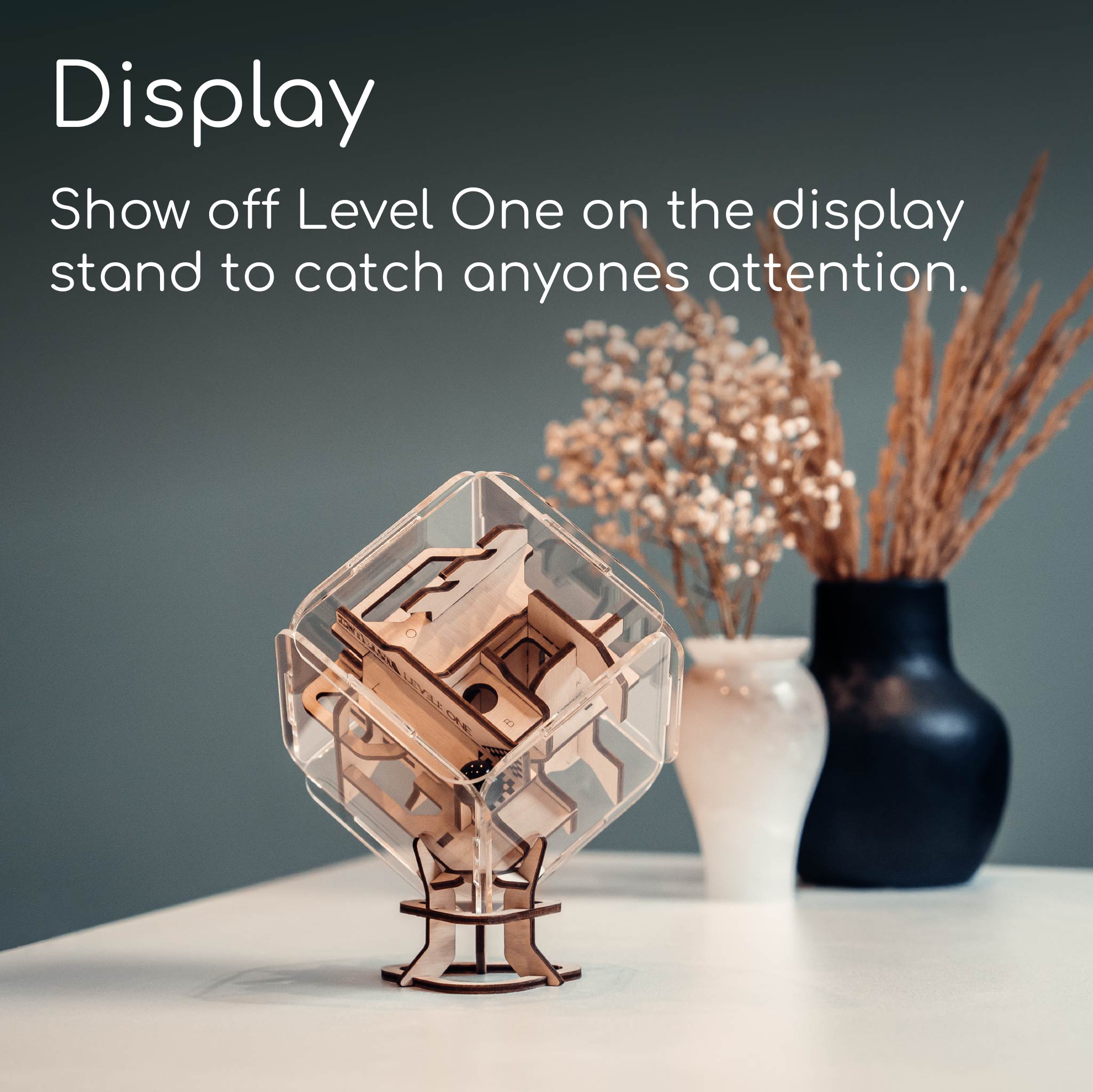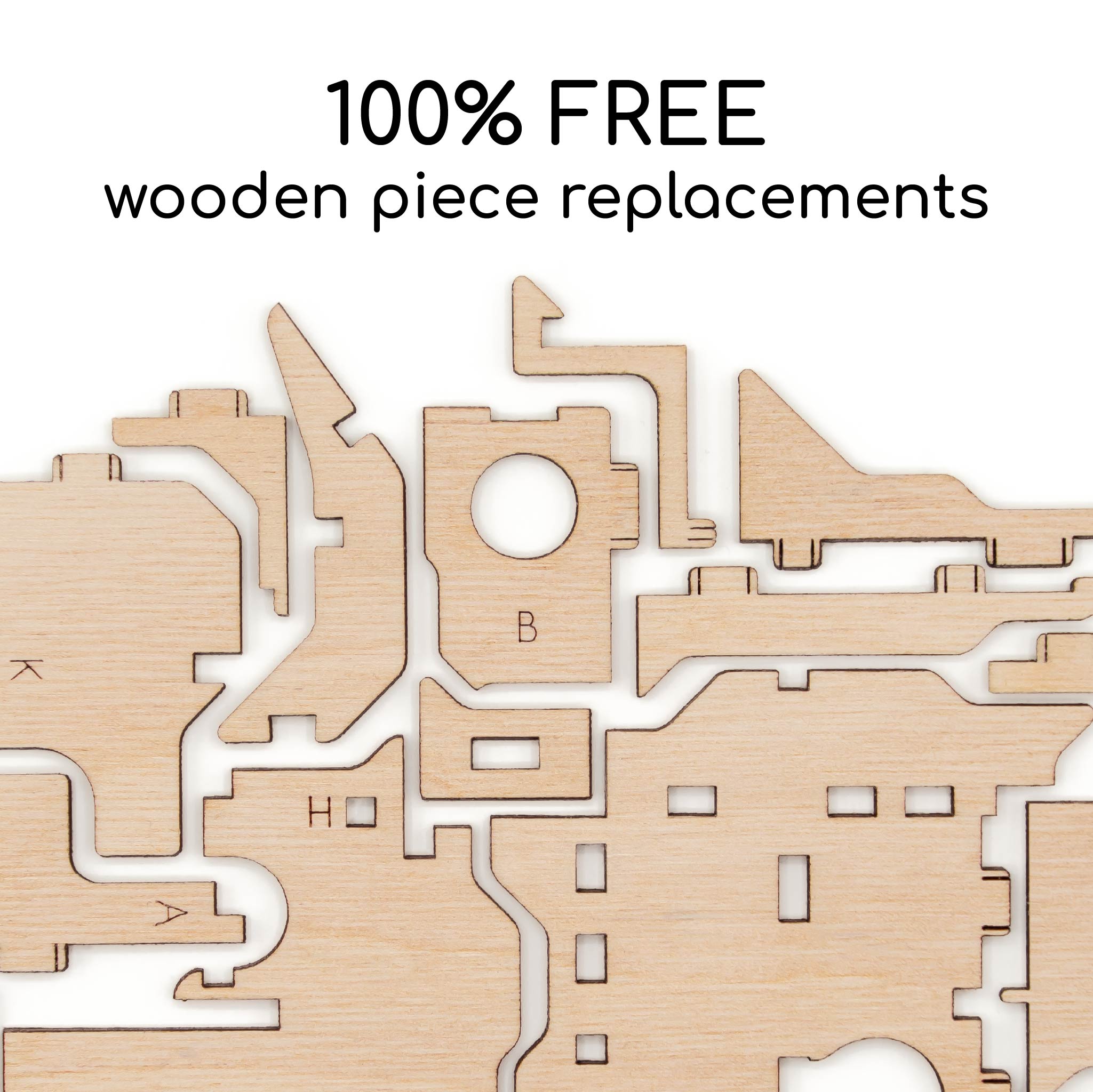 Zoom with mouse scroll wheel
Double click image to zoom in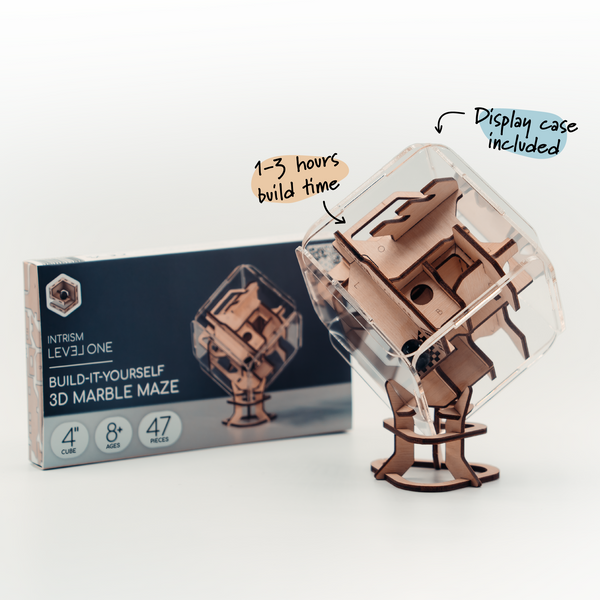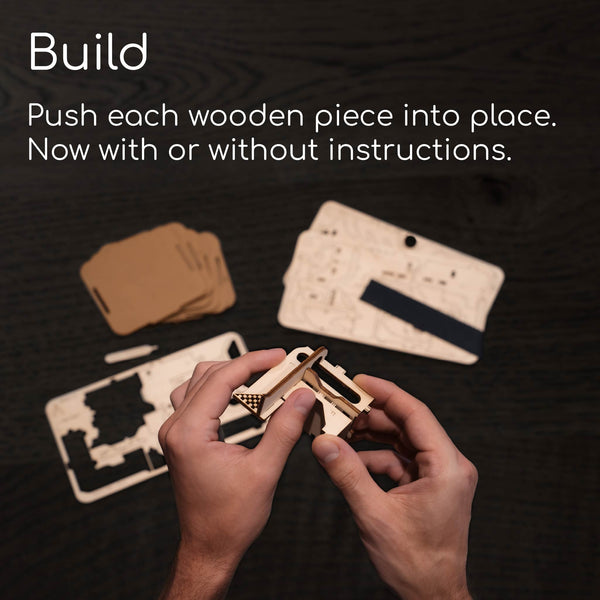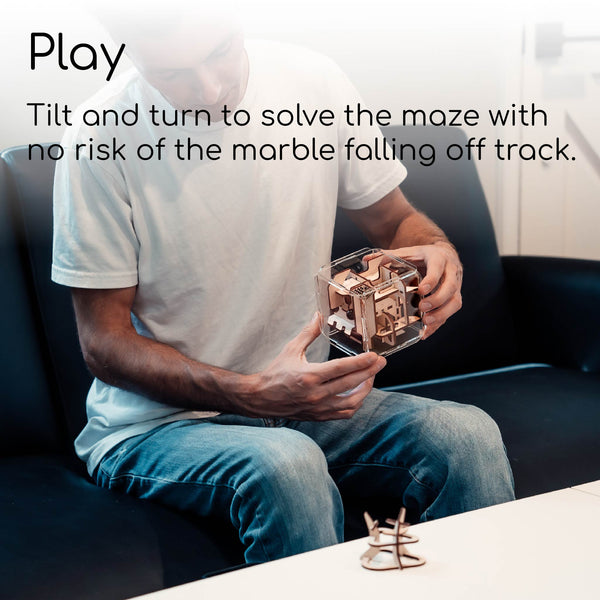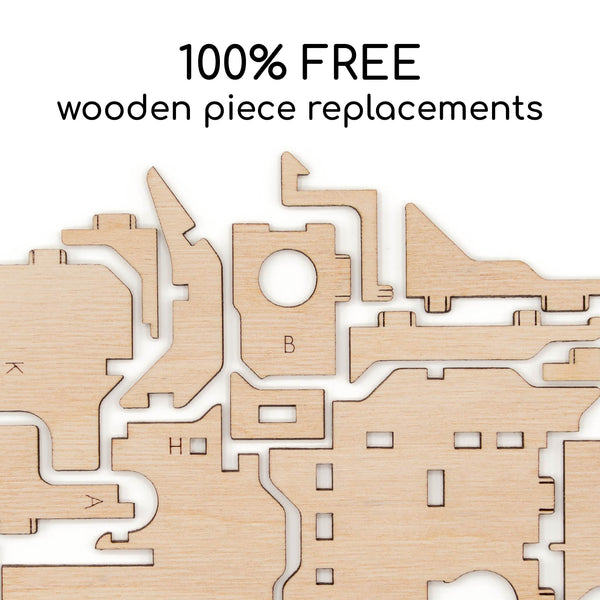 Zoom with mouse scroll wheel
Click image to open expanded view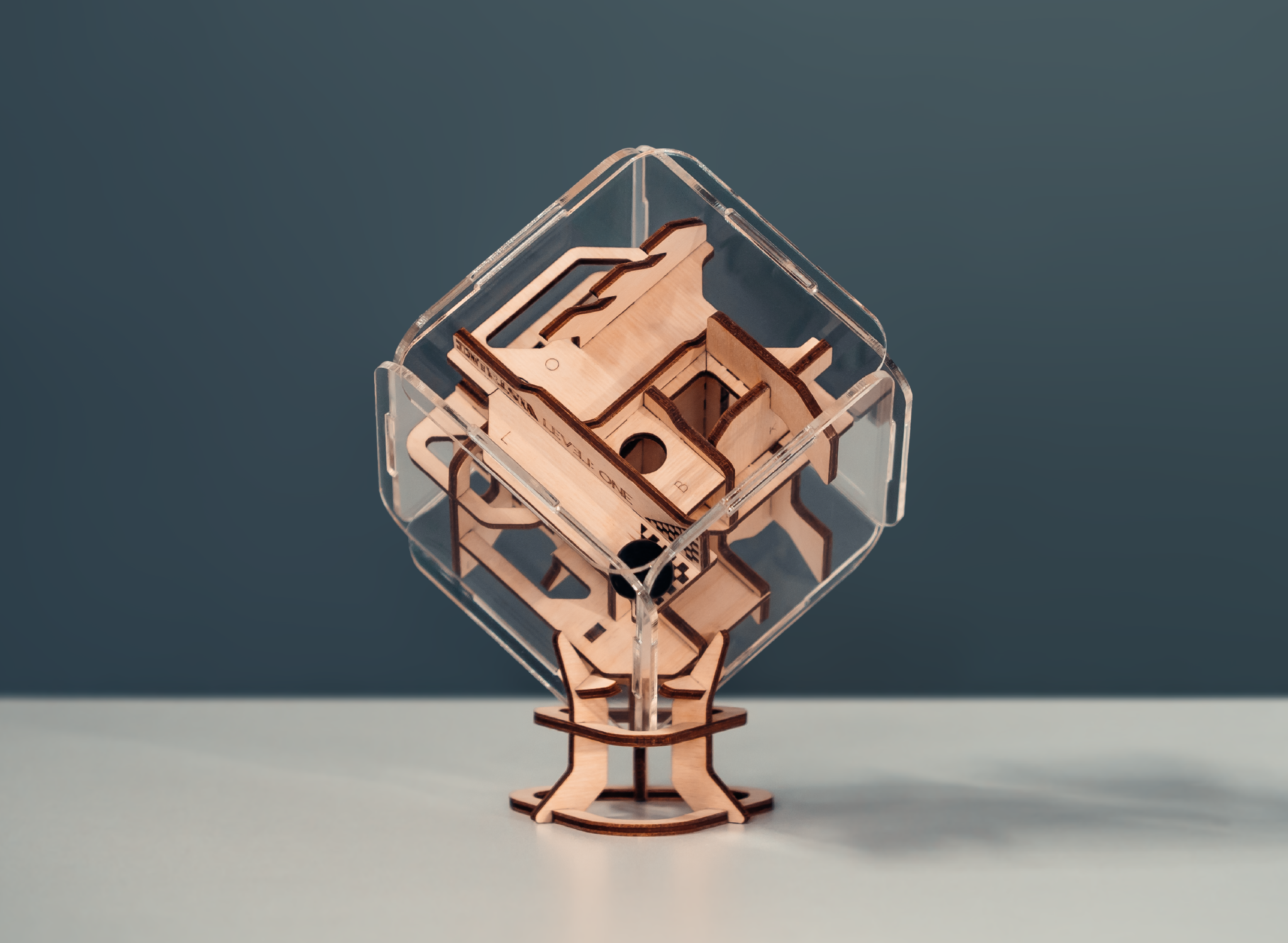 Before
After
Your questions, answered.
How long does it take to build?

Level One is designed to have three levels of assembly difficulty (easy, medium, and hard). Depending on your expierence and the difficulty level you select, it can take from 30 minutes to several hours to complete.
Can you stain or varnish the wood?

Yes & yes! Adding your own pop of color truly makes it one-of-a-kind. We don't recommend using paint which could increase the thickness of the pieces.
What's the difference between Level One and Intrism Pro & Mini?

Level One introduces new concepts that are not present in our Original Series (Intrism Pro and Mini).

Level One is designed to be able to be put together with or without the assembly guide.

Additionally, the maze is designed so that the marble will not fall off the track during play, requiring players to concentrate on finding the route to the finish line rather than also relying on dexterity.
Can you disassemble and assemble the puzzle again?

Intrism puzzles are designed to be assembled once, but you can play the maze endlessly.
How hard is the maze to solve?

Level One has three levels of difficutly to solve. Depending on which option you pick, the maze can be easy or a challenge to solve.
Can the marble fall off the track?

Level One is designed so the marble cannot fall off the track.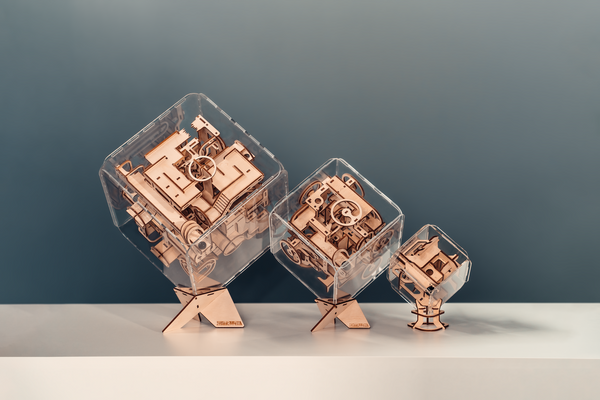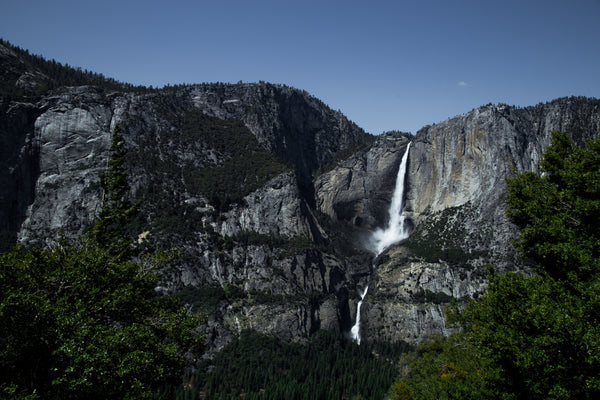 Small puzzle. Huge impact
We plant 10x the trees we consume, remove waste from the ocean for the waste we generate, and offset our entire carbon footprint.
Precision a slight miss
Everything was great, but the pieces kept falling out. I found myself trying to glue a couple of them. I read the instructions and reviews and I was very careful when putting it together. You have all the components for a successful puzzle, however, I found several pieces to not fit. As a matter of fact, they were too loose for me to proceed to rotate the puzzle to place a new piece. The pieces were laser cut to pop out with ease. I was very bummed. I have since ordered another style of wooden puzzle and I will see how that goes. I wouldn't order another from here, however. After many attempts, I simply threw it out. If you knew me, you would know that I am very persistent and don't give up so this must have frustrated me a great deal.
A fun challenge.
Not too big, not too small. It's challenging to put together and challenging to solve the maze. I enjoyed the whole process, even though I haven't been able to solve yet. The online videos for construction of and solving the maze are incredibly useful if you get stuck!
Intrism Level One
My 7-year-old grandson and I enjoyed putting this together very much, it was easy enough and definitely kept him focused and interested, and I look forward to when he can be ready for the next level. Absolutely perfect gift!
Fun and fast delivery
The perfect summer project! It was delivered quickly, and kept my son entertained for hours as he put it together. I love the little details such as including a tool to help punch out the pieces and sandpaper to get rid of rough edges!
Love it!
Very easy to assemble. I only wish I had thought about staining the wood prior to assembly. Will be ordering the bigger versions!
Fun to build; Fun to play!
I enjoyed building the Level One and playing with it. While building, a small piece of wood broke, and I had to use wood glue to get it back on correctly. Also while building, a small piece of the clear acrylic broke off, which I did not need to repair. I appreciate having the solution available on the stand, if needed.
Gift for Granddaughter
Fast shipping and good service. Nice stocking stuffer. She had no problems fitting it together. Recommended.