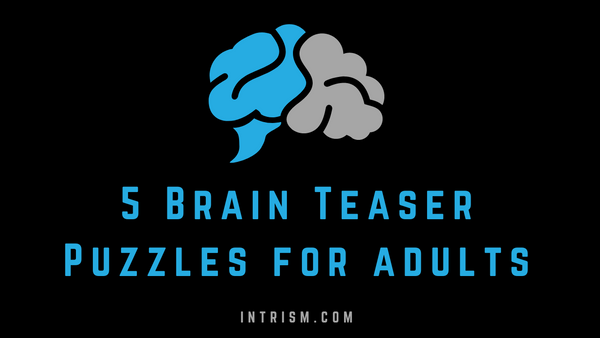 5 Brain Teaser Puzzles for Adults
As a child, I was always fascinated by brain teaser games. There was something incredibly satisfying about the process of figuring out how to fit the pieces together, and the thrill of finally solving the puzzle was always a huge rush. I spent countless hours absorbed in these challenges.
Looking back, I now realize that my love for brain teaser puzzles wasn't just about the fun of solving them. These types of puzzles helped me develop important life skills, such as patience, persistence, and problem-solving abilities. They also provided me with an outlet for stress and a way to stay engaged and mentally stimulated.
In this article, I want to share my personal experience with some of the best brain teaser puzzles and why I believe they are such a valuable tool for children and adults alike. Whether you're an experienced puzzle solver or just looking to try something new, I hope that this article will inspire you to pick up any of these fun puzzles for adults and see for yourself just how much fun and rewarding these challenges can be or as a gift for someone who enjoys puzzles.
Rubik's Cube: This iconic handheld puzzle toy has been around since 1974 and has captured the imagination of puzzle enthusiasts ever since. It consists of a cube with six sides, each of which is a different color. The goal is to rearrange the cube so that each side is a solid color.

While it may look simple, Rubik's Cube can be challenging. It requires patience, perseverance, and a good deal of problem-solving skills. But the satisfaction you feel when solving it is worth every frustrating moment. It makes for a great brain teaser puzzle for kids, especially in the car! 
Intrism Level One: This wooden brain teaser puzzle is not just any ordinary puzzle but a 3D brain teaser puzzle too! Intrism Level One is a unique and complex challenge that will test your problem-solving skills, patience, and attention to detail. A hands-on puzzle, you'll start by assembling 46 pieces in the correct order and orientation to form a functional marble maze.



The added difficulty of constructing the puzzle without instructions makes it an ideal choice for skilled puzzle solvers who are seeking a new mind bender puzzle.

Intrism Level One is a 

challenging puzzle if done without the instructions. 

On the other hand, for those who are just starting, the opportunity to use instructions ensures that the puzzle is still accessible and enjoyable. 

Once the 3D wooden puzzle is assembled, another challenge begins. The marble maze requires you to navigate the marble from one end to the other while avoiding dead-ends, traps, and more! 
Metal Disentanglement Puzzles: These metal brain teaser puzzles consist of interlocking metal pieces that must be separated and reassembled. The puzzles vary in difficulty, some being relatively simple and others incredibly challenging.

They're a great way to engage your mind, test your problem-solving skills, and improve your hand-eye coordination and fine motor skills. The beauty of these puzzles is that they can be enjoyed alone or with friends, making them a perfect activity for a rainy day or a fun night with your buddies.
Japanese Puzzle Boxes: Also known as Himitsu-Bako, are intricately designed wooden boxes that require a series of moves to open. Each box has a secret mechanism that must be figured out to access the contents inside. They come in a range of sizes and levels of difficulty, making them suitable for both beginner and advanced puzzle solvers.


Burr Puzzle: A burr puzzle is a type of mechanical puzzle that consists of a set of interlocking wooden pieces. The goal of the puzzle is to disassemble the pieces and then reassemble them back into their original form, which is typically a cube.

The challenge of these puzzles lies in figuring out how to move the pieces in a way that allows them to be separated, as they are often tightly interlocked and can be difficult to manipulate.
Hard brain teasers have played a significant role in my life and I believe that they can be a valuable tool for anyone looking to improve their problem-solving skills, boost their mental stimulation, and reduce stress. 
Don't be discouraged if you don't solve the puzzle right away. Remember that the process of working on a puzzle is just as important as the solution. By taking the time to work through each challenge, you can develop valuable skills that will serve you well in all areas of your life.